Since I can not eat that much solid healthy food as it is needed to change my lifestyle and increase my muscle mass, it needs nutrition supplements to quickly absorb protein and amino acids. I bought the following products in a ShopBuilder store in Szeged as a starter pack: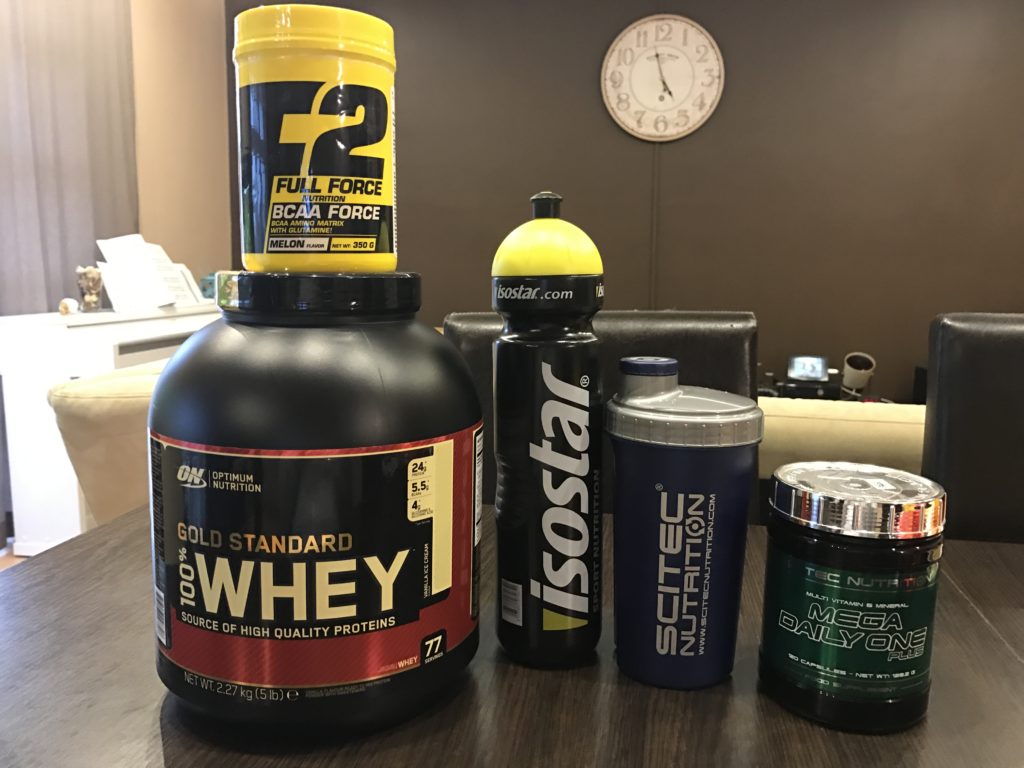 GOLD STANDARD 100% WHEY
Whey Protein Isolates (WPI) are the purest form of whey protein that currently exists. WPIs are costly to use, but rate among the best proteins that money can buy. That's why they're the first ingredient you read on the Gold Standard 100% Whey™ label. By using WPI as the primary ingredient along with premium ultra-filtered whey protein concentrate (WPC), we're able to pack 24 grams of protein into every serving to support your muscle building needs after training. ON's attention to detail also extends to mixability. This superior quality powder has been instantized to mix easily using a shaker cup or just a glass and spoon. There's no doubt that this is the standard by which all other whey proteins are measured.
Whey Protein Isolate (WPI) Main Ingredient
Whey Protein Microfractions from Whey Protein Isolates & Ultra-Filtered Whey Protein Concentrate
Over 4 Grams of Glutamine & Glutamic Acid in Each Serving
More Than 5 Grams of the Naturally Occurring Branched Chain Amino Acids (BCAAs) Leucine, Isoleucine, and Valine in Each Serving
The "Gold Standard" for Protein Quality
Full Force BCAA
he Branched-Chain Amino Acids (BCAA's) are a group of so-called essential amino acids consisting of Leucine, Isoleucine and Valine. The BCAA's are among the 9 essential amino acids for humans, because our bodies can't manufacture them, so their only source is our daily food or food supplementation. On the other hand, they account for 35% of the essential amino acids in muscle proteins. Glutamine is a top ingredient for athletes in popularity, so we included it to boost Glutamine intake levels as well.
BCAA FORCE is a source of Vitamin B6, which contributes to:
the regulation of hormonal activity
normal energy-yielding metabolism
the reduction of tiredness and fatigue
normal functioning of the immune system and nervous system
normal protein and glycogen metabolism
normal red blood cell formation
Scitec Mega Daily One Plus
Mega Daily One Plus is our advanced multi-vitamin and mineral formula with 25 ingredients! It features a high-dose Vitamin B complex and Vitamin C, plus essential minerals including Magnesium, Selenium and Zinc. Vitamin C contributes to the normal function of the immune and nervous systems, and to the reduction of tiredness and fatigue.
It also helps to maintain the normal function of the immune system during and after intense exercise (the beneficial effect is obtained with a daily intake of 200 mg in addition to the recommended daily intake of Vitamin C)! Vitamin B2 contributes to the maintenance of normal vision and normal red blood cells. Folate contributes to normal amino acid synthesis.
Mega Daily One Plus has 240% of the Recommended Daily Allowance of Vitamin D3! Vitamin D contributes to the maintenance of normal muscle and immune system function, and to the normal absorption/utilisation of calcium and phosphorus.
Zinc contributes to normal fertility, reproduction and to the maintenance of normal testosterone levels in the blood, and also to normal macronutrient metabolism.
Magnesium contributes to normal functioning of the nervous system: neurotransmission and muscle contraction including heart muscle; also to normal protein synthesis and to the maintenance of normal bones and teeth.
Selenium contributes to normal spermatogenesis, to normal thyroid function and to the maintenance of normal hair, nails.
You are what you eat and drink
With these, of course, I only supplement my daily meals, I try to get as many macros as possible with a solid meal. I take the protein from different meat, like chicken, beef or fish, but I eat eggs and cheese too. My carbohydrates are mostly made up of rice, oatmeal and vegetables, but sometimes I improve it with seeds like natural cashew nuts. Fats are mainly get from the seeds, eggs and meat mentioned above, which I supplemented with flaxseed oil.
It was felt in the first few weeks that something changed. I felt better, I had more energy and my stress level is decreased. I was more patient, more relaxed. Peoples usually expect the opposite if speaking about diet, right? The stereotypes worked within me of course, but I quickly realised that this is not a "quick fat loss course' but a conscious diet.